16th Oct. – 22nd Oct. 2021
2 Year Anniversary of WHV
Happy 2 year anniversary of WHV!!!
We have many cool things added for you today, some only last for the next 6 days, so make sure to check everything out until then!
Special leadstallions and companions are available in the Tokenshop, the 2 leadstallion from last year are available again. Additionally they have brought a new leadstallion friend, the Nightstarstallion and a beautiful magic butterfly companion!
A letter from the admins will be posted in the forum soon, with some hints for new features, that are planned for the future! Stay tuned!
For the duration of this special you can find a special Tokenplant in explore, where you can harvest Token directly from a tree!
Heaps of new collectible coatcolors have been added, as a reward for finishing the collectionbook!
Everything (except the collectibles, they are permanent) only available for the next 6 days! Happy celebrating!
The beach backgroundset from last year is available in the Tokenshop all year round, it grants you access to a beautiful beach with 3 different weather scenarios, of which one is a bioluminescent scene!
Check out the current special page to find full info on this special!
 27th August 2021
New harvesting minigame + leadstallions
From now on you can find plants on your journey, that you will be able to harvest to collect items! These items can be leaves, flowers, butterflies and more!
Click on a plant that you found on your journey to be asked to either start the minigame or autocollect items for a few Token. The minigame gives you 15 seconds to collect as many items on the screen as possible!
All butterfly and plant leadstallions from the last years are available in the Tokenshop again! That includes the grapevine frisian, water lily silver thoroughbred, peacock butterfly horse and many more!
They also brought 2 new friends: the swallowtail Marwari leadstallion and an adorable mushroom tobiano plants Minihorse!
The leadstallions are only available for 2 weeks and will then disappear from the Tokenshop again!
 12th August 2021
New items and decorations
We have added a few new items, that you can find on your journey and also use for the new decorations. Some new decorations are available for all leadstallions, others only for certain models. Have fun exploring!
These new items include holly blue butterflies, tumbleweed, blueberries and more!
As for the decorations, you will find new colors of glitter, a tumbleweed decoration, mud decoration for some models and much more. Can you find them all?
 5th July
New Feature: Injury Minigame
Your leadstallion can get injured in the events (when attacking), battle and alliances! Every time one of these actions happen, there is a 10% chance to get injured. Don´t worry, your leadstallion cannot die from any of those injuries, there are no lethal injuries in WHV!
When your leadstallion get´s injured he instantly loses 100 health, though you can win back full health for free for your leadstallion when completing the injury minigame.
There are many different injuries in WHV that all have a different treatment method! If you need a hint during the minigame click on the checkbox for "easy mode" in the top right corner above the treatment methods!
 1st June – 1st July
Rainbow Special
Many different rianbow themed leadstallion and companions are waiting for you in the Tokenshop! More new content will be release throughout the month, which will include new "common" decorations and rianbow themed decorations for your leadstallion!
This month you will have the chance to get a rainbowhorse outside of the special Token package! You can play through the "Rainbow" storyline for 10000 Token and receive a rainbowhorse, that joins your herd, as an end reward!
More info on the "current special" page (button on the right side)
 27th April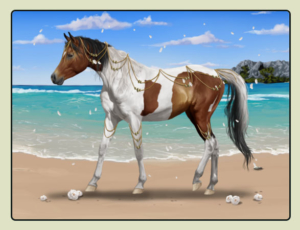 New feautre: Leadstallion decoration!
The community goal has been reached and all the trash laying around in the valley has been collected!
Together, the community has unlocked a new feature: decorations for your leadstallion!
These decorations can be crafted with items or Token and will be bound to a specific horse/color. Once crafted the decoration will stay with your account forever and will be available for the specific leadstallion it was crafted for through the collectionbook or whenever he is your leadstallion!
Every horse model has a unique set of decoration options! Some decorations are available for all horses. At release every normal horse model has at least one unique decoration available. We will be working on adding more unique and common decoration for all horse models, including special leadstallion!
Currently you can find unique decorations like antlers, jewlery, mud, flowers and more! These decoration will probably be available for all horse models in the future!
You can also find some new items on your journey, in the alliances and battle!
Find the option to decorate your leadstallion in the menu or decorate your special leadstallions through the collectionbook!