2nd April-16th April 6:00 am CET
Easter Special!
This Easter you can collect 2 special things: Easter eggs with little gifts in the different territories and horses of a new horse model!
The Easter eggs can be found in any territory and collected like a normal item, they will give you gifts when opened in your extended inventory. You can also find some Easter themed events, that will hide even more Easter eggs in the territories for you!
The new horse model inspired by Shire horses has it´s prerelease today with 3 different colors as special leadstallion in the Tokenshop. The full release of the horse model is on the 5th of April!
Of course we have Easter themed special leadstallion! The Bunny-horse from last year and a new "Chick horse" that carries two cute chicks on its back.
As for Easter companions, all 3 different colors of rabbit companions that were available in the past are also available this event! (rabbit, beige rabbit and snow rabbit)
Pre-release: 25th Febuary-7th March
Official release: 1st March
New horse model!
A new horse model will be added to the game! This lovely horse model was inspired by "Marwari" horses! In WHV all horses are wild horses and do not have a particular breed, the body-build of different horse models can be inspired by a real life breed. The colors of the new horse model might not be breed standard.
The new Marwari inspired model comes in 10 different colors! The prerelease offers 3 of those colors in the Tokenshop as special leadstallion (until the 7th March) before the model will officially join the game !
In the official release (1st March) all 10 coat colors can be found in the wild, pony exchange or battle for free! Additionally we offer the opportunity to get a random horse of the new color for 250 Token on the "current special page" from the 1st Match to 7th March!
7th Feb. – 16th Feb. 6:00 am CET
Valentines Special
We have a new special for you! In this years Valentines special you can do small quests/tasks to help other horses/animals in their love life. Of course you will receive a reward for helping them! You are free to choose which quests/tasks you would like to do.
Some are a little easier, while others might be a bit more challenging! The rewards include cute companions, Token and even one of the new dynamic leadstallion!
The new dynamic leadstallion come sin 5 different colors and carries a Hibiscus blossom on his back, this blossom will react dynamically to the weather. If it is raining heavily, the blossom will close to protect itself!
Additionally the 4 Valentines leadstallion from last year have reappeared in the Tokenshop and are available during the special. All hibiscus leadstallion and herdcompanions available in this special will also only be available until the end of the special (16th Feb. 6:00 CET).
We wish you lots of fun in the special!
Find more info on the "current specials" page!
24th Jan. – 31st Jan. 6:00 am CET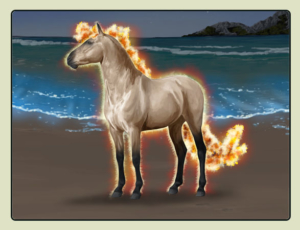 Skill contest
In anticipation of the battle revamp, we bring to you a new special! Due to changes in the battle system the total amount of skills will not be important for the new battle system, instead for every battle a small amount of skills (depending on your herdsize) will be subtracted.
So we wanted to give you the chance to get some cool things for your hard earned skills!
In this special you can get special leadstallion, cool new items and more in return for skill points. There are even some dynamic leadstallion! We wish you a lot of fun and if you don´t have so many skills yet, because you are a newer player: don´t worry the new leadstallion also have a Token option in the Topkenshop!