5th July
New Feature: Injury Minigame
Your leadstallion can get injured in the events (when attacking), battle and alliances! Every time one of these actions happen, there is a 10% chance to get injured. Don´t worry, your leadstallion cannot die from any of those injuries, there are no lethal injuries in WHV!
When your leadstallion get´s injured he instantly loses 100 health, though you can win back full health for free for your leadstallion when completing the injury minigame.
There are many different injuries in WHV that all have a different treatment method! If you need a hint during the minigame click on the checkbox for "easy mode" in the top right corner above the treatment methods!
 1st June – 1st July
Rainbow Special
Many different rianbow themed leadstallion and companions are waiting for you in the Tokenshop! More new content will be release throughout the month, which will include new "common" decorations and rianbow themed decorations for your leadstallion!
This month you will have the chance to get a rainbowhorse outside of the special Token package! You can play through the "Rainbow" storyline for 10000 Token and receive a rainbowhorse, that joins your herd, as an end reward!
More info on the "current special" page (button on the right side)
 27th April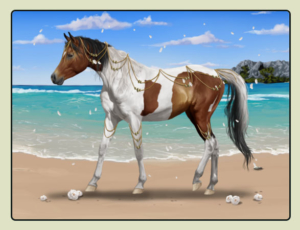 New feautre: Leadstallion decoration!
The community goal has been reached and all the trash laying around in the valley has been collected!
Together, the community has unlocked a new feature: decorations for your leadstallion!
These decorations can be crafted with items or Token and will be bound to a specific horse/color. Once crafted the decoration will stay with your account forever and will be available for the specific leadstallion it was crafted for through the collectionbook or whenever he is your leadstallion!
Every horse model has a unique set of decoration options! Some decorations are available for all horses. At release every normal horse model has at least one unique decoration available. We will be working on adding more unique and common decoration for all horse models, including special leadstallion!
Currently you can find unique decorations like antlers, jewlery, mud, flowers and more! These decoration will probably be available for all horse models in the future!
You can also find some new items on your journey, in the alliances and battle!
Find the option to decorate your leadstallion in the menu or decorate your special leadstallions through the collectionbook!
 22nd April
Earth Day Special!
Oh no, somehow the valley is full of trash! Help the community to pick it up and turn it in, to unlock a very cool new feature!
You can find cans, papers and trashbags in all the different territories! Collect them and turn them in via the buttons above, to help the community unlock a cool new feature! Trashbags give 5 points per item turned in, cans and paper give 1 point per item turned in. The more you move, the more items you can find and help the community.
Until the 29th April 6:00 am CET you will also be able to purchase trash-themed leadstallion (from last year) in the Tokenshop! There are fun leadstallion like "Can-icorn" or "Mr. Plastic Feet"!
Once the community goal of 50,000 collected trash pieces is reached, the new feature will be added to the game!
The new feature will be unlocked manually, which means that it might take a few hours once the community goal is reached, until the new feature get´s unlocked!